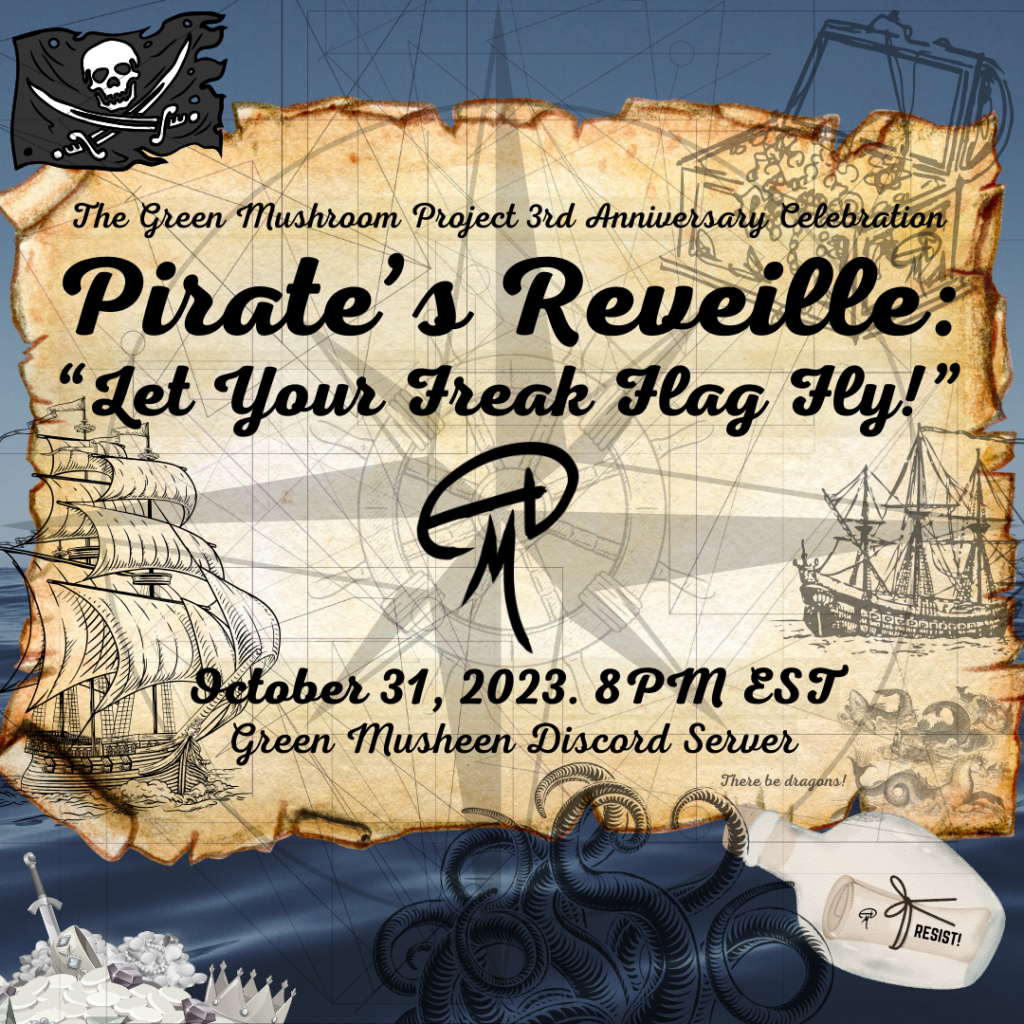 This ceremony will be conducted to celebrate the 3rd Anniversary of The Green Mushroom Project's founding and was created via a collaborative process after drawing five lines at random from the 23:Bibliomancy scripture. To get us in the mood for the celebration, we will sing a sea shanty, which will be followed by an explanation of tonight's proceedings. We will begin by listening to a track, selected at random, from Fuck Around and Find Out Pt. 2, The Green Mushroom Project and We the Hallowed Digital Mixtape (which will be released the same day as the ceremony). Luxa will then conduct bibliomancy using the roll tables she has created for the purpose, and we will present the offerings to the beloved dead and to all those who have been assisting us. We will then conduct wish magic, followed by a guided meditation written and read by Skella. We will then create "flags" for our metaphorical ships, which can be thought of as "artistic sigil magic". We will then boast like pirates of our coming achievements and express gratitude for the beloved dead, Mushroom and each other, and who or whatever else. We will close by speaking The Green Mushroom Project Statement of Resistance, then enjoy libations, show off our costumes (not mandatory, but encouraged) and let our freak flags fly!
A note on decorum: although this is a pirate themed event, please be respectful of the presenters and other participants by keeping noise or other distractions to a minimum until after the ceremony is over. If you arrive after the event begins, please reference this doc rather than interrupting by asking questions about what's going on. There will be plenty of time for dick jokes after!
Materials needed:
Offerings for the honored and beloved dead
Offerings for the Mushroom
Libations for you
Birthday candle and way to light it
Candle w/ hyphosigil
Art supplies for creating a flag (artistic sigil work, whatever materials suit you)
Journal or note taking supplies
Costume (not mandatory, but encouraged)
Statements of Intent:
To celebrate the 3rd anniversary of The Green Mushroom Project's founding.
To thank the egregore associated with the project, the participants, the honored dead.
To allow participants to gain a sense of agency as "captains of their own ship".
Steps:
Listen to track from Fuck Around and Find Out pt. 2 the mixtape, selected via dice roll – Fr. Damiana
Bibliomancy – Luxa
Present Offerings
Wish Magick – Luxa
Compass Journey – Skella
Refection on Journey & Time for Journaling
Make a Flags for our ships (artistic sigil work) – Miguel
Declarations of Intent (Boast like a Pirate) – Miguel
Expression of Gratitude – Laura & Luxa
Statement of Resistance, light candle w/ hyphosigil – All
The Green Mushroom Project Statement of Resistance:
Resist.
Resist by maintaining Sovereignty of the Self.
Resist by maintaining Love of the Self.
Resist by maintaining fierce Loyalty to Love and Pleasure.
Focus on the Path to Better Times.
Resist with acts of Radical Kindness.
Here are the lines from 23:Bibliomancy we used as inspiration:
investigational tool, as a common thread to a kind of unilateral
I alluded earlier to the problem of speed, but this is also a problem
thinking never yields accurate description of metabolic process –
But neither age nor blindness had dulled her wits
captains would appreciate it. Otherwise it would have been
Thank you for participating in this ceremony! Mush Love.